This is an update of a March 2019 do-over of my original thread on this subject called "
Installing Inexpensive Mid-position Foot Pegs
" posted in July 2017. I'm putting this do-over/do-over out because the several pictures that I posted then were stripped out by a forum software screw up awhile ago. Absent those pictures, it is may be kind of hard for some folks to follow. Okay, here goes.....
Since my CTX is now a trike, I persisted in researching a solution to the very common desire to have pegs in the traditional mid-position of the bike. What I finally settled on was an aftermarket passenger peg intended for several of the Kawasaki bikes. You'll find them on eBay any day of the week, just search for "Emgo Foot Rest Set Kawasaki 54-05414" and a number of them will pop up. Since they are all identical coming from the same source, pick the one with the best delivered price.
This is one of those "easy peasy" projects that even the most mechanically challenged among us will be able to do easily & inexpensively. The totality of the effort only involves drilling and tapping four holes. I drilled & tapped with the side covers in place continuing into the frame itself, therefore 2 holes for the covers and 2 into the frame. The drilling is fairly easy since even though you are drilling into the frame itself and two aluminum covers, you are just reaming out an 8mm to be a 12mm. I recommend getting a brand new 27/64ths drill and a 12x1.25mm tap to do the job. Be careful when doing the tap so as to not brake the tap, that will remove this project from the "easy peasy" category! To prevent that from happening, I used steady pressure with frequent back outs (to clean off the teeth) and I spray vinegar (WD40 works too) in the hole to lube the teeth to cut much better. Actually I used the lube when drilling as well. To answer your obivous question, I learned the vinegar trick from an grizzled old school machinist. Works surprisingly well, even better than some salad dressing!
These pegs are just big enough and fold back better when not in use as to be
perfect
for my trike. You see, not having a mid-position peg on the CTX when triked is not an option for me, especially with my $950 seat & backrests in place. It is a must have on two counts, (1) the passenger will use it to clear the rider's back rest when getting seated. And (2) the rider himself, (especially when it is me, with the titanium metal knees) has to have a two step mounting procedure, especially to swing the defective leg over the rider's back rest when mounting.
Once I installed both sides I was quite happy with the results, at least from the standpoint of giving me the mid-position peg I'll need for mounting the trike the way I want. That alone was worth the $20.00 & 20 minutes to install.
When I took it out for a test ride to see how the new pegs would work as another place to put one's feet on long rides and they are perfect for me in that regard alone. Most of the ladies and the guys like me with 30" inseams will avail themselves for that alternate position quite readily. The taller among us, perhaps less so. Even so for them, the pegs will help when crossing RR tracks and washer board dirt roads.
As far as the pegs getting in the way of backing up, even in their full down position they are not in the way of one's legs when backing up. So that's a real plus for me, that's for sure. And if they are in the way for you, just flip them up & out of the way.
As shown in the last photo below, you will have to open up a hole in the bottom cover to allow access to the peg. Or if you are nice and lazy, leave the cover off altogether the right side doesn't have one to begin with. So really, be my guest, nobody will notice.
And finally, in case you are wondering about the strength of that installation, I buy my gear in petite huge sizes (@255lbs) and I have full confidence in those pegs. Remember you have a 12mm shaft installed right into your frame.
Okay visual junkies, following is the complete set of annotated pictures previously lost by the forum software debacle mentioned above....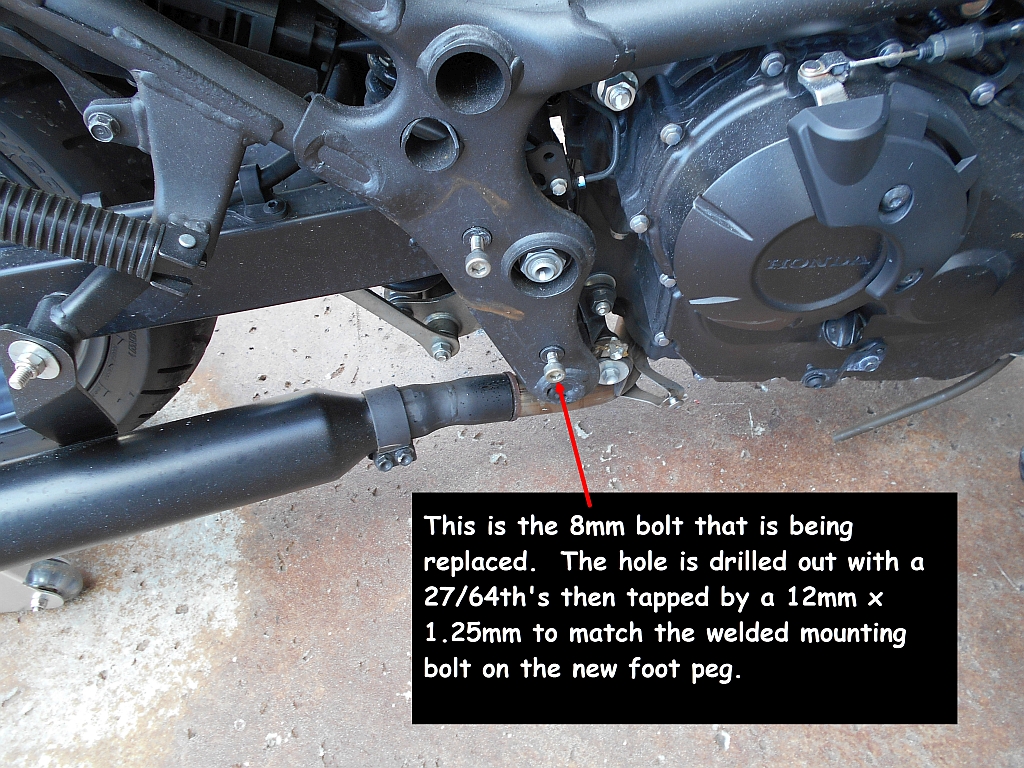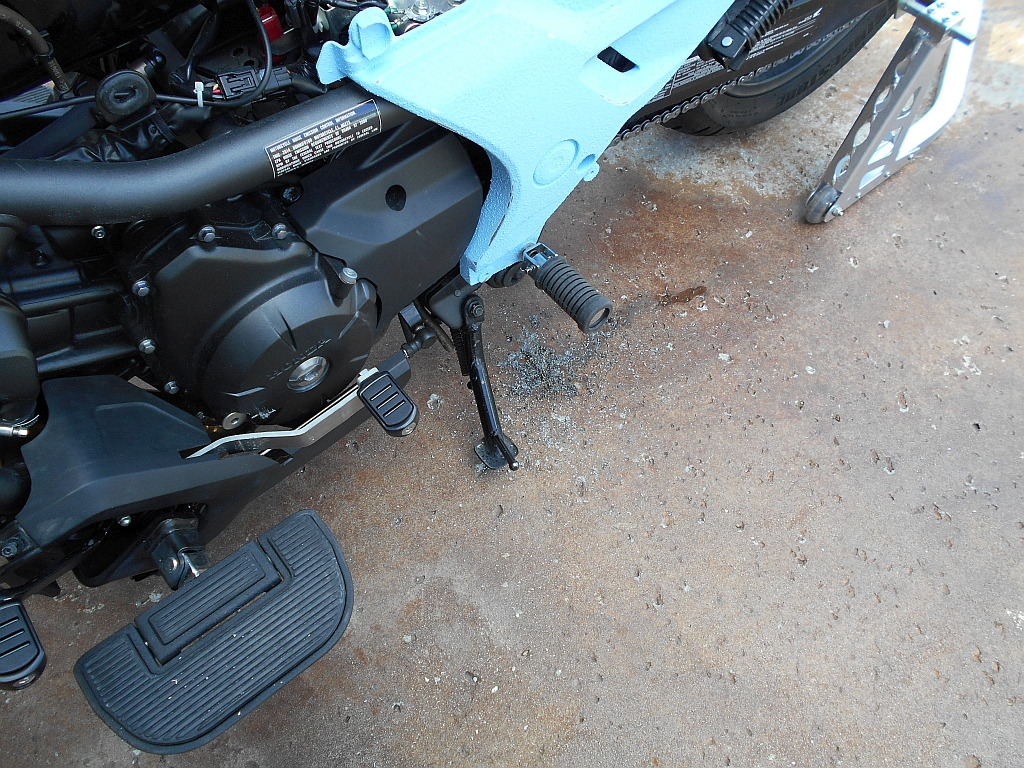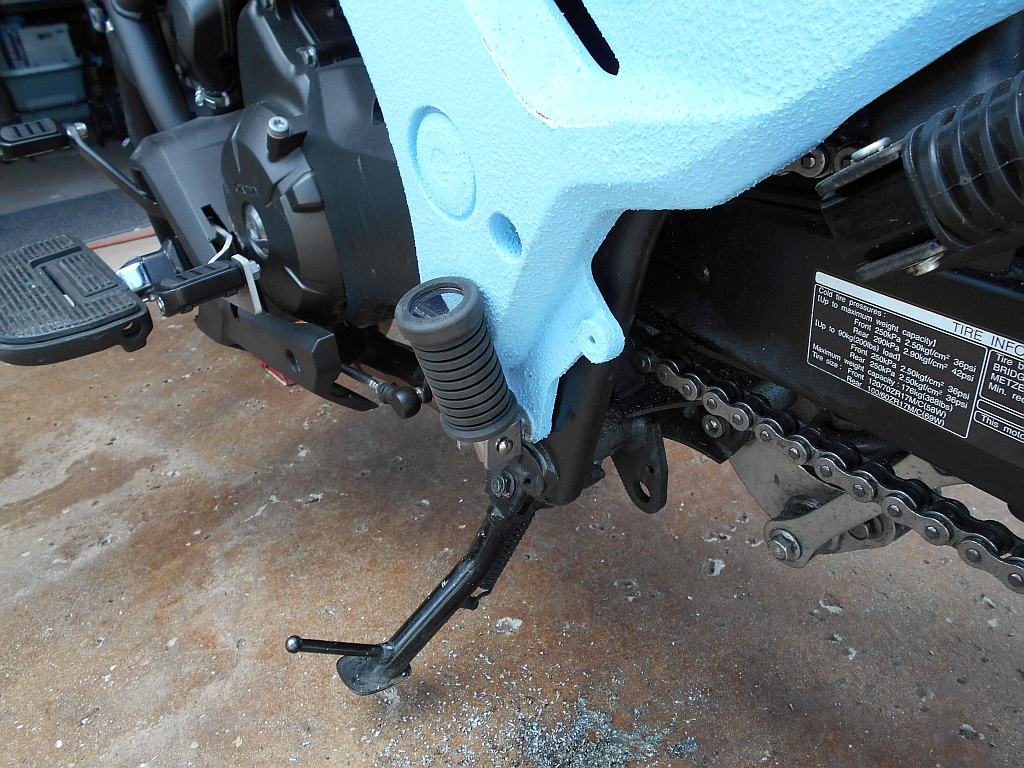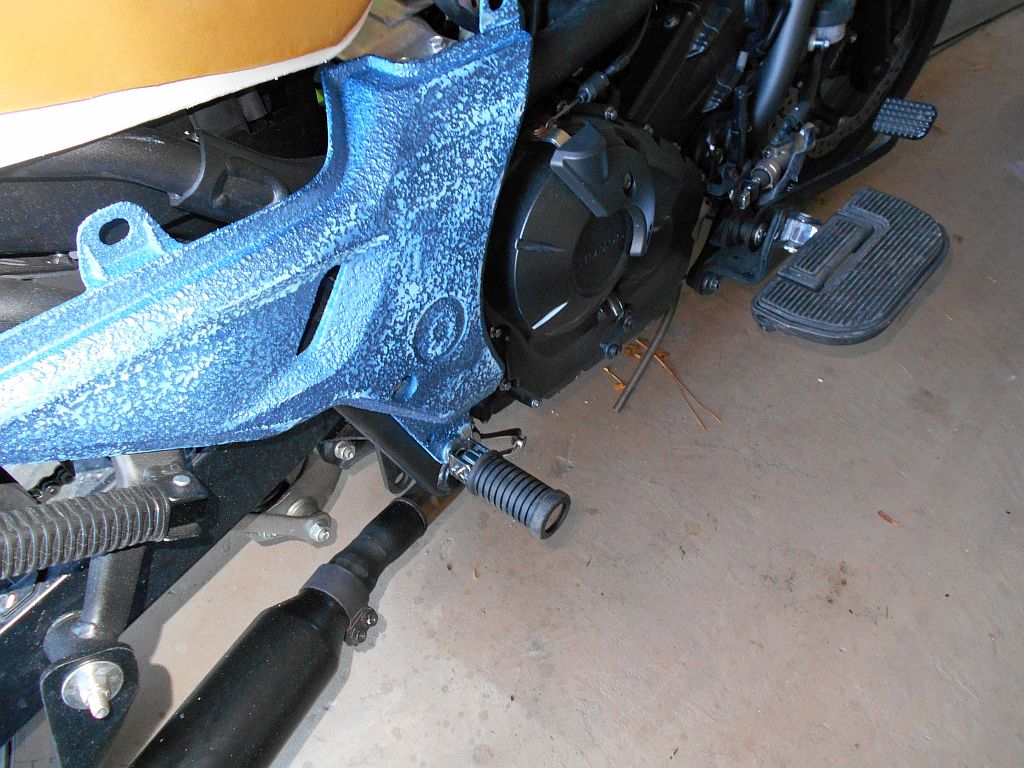 In my latest itteration, I exchanged the cheapo Kawasaki passenger pegs with a Kuryakyn mini-footboard setup. However, I did keep the Kawa U-Shaped adapter holder and screw-in bolt assembly into which I installed the 8818 adapters I already owned. To them I attached a pair of the Kuryakyn 2" extension bars. I'm sorry, but I bought them so long ago, I don't know their product number, and sadly, when I searched for them in both Amazon & eBay, I couldn't locate them. Therefore, I'm not sure they are still available in the retail marketplace anymore. Actually, you don't
have to
have the extensions, I just wanted them elevated to make it easier for my right leg to clear the rider backrest on my Russell DayLong seat.
As you'll see in the pictures below, the mini-boards are attached to those 2" extensions, raising them up to the desired position: