Discussion Starter
·
#1
·
Yesterday I met up with Bob to have my CTX be the guinea pig for testing his Heel-to-Toe shifter. Bob did all the installation (besides myself handing him a few tools!) and the install went smooth.
So far:
1. It took approximately 3.5 seconds to adapt and get used to a heel-to-toe shifter again! I missed that on the CTX from my previous bikes. Like many things, once you use one...it's hard to get "unused to it"!
2. I rode home for about 45 miles. The shifter works flawlessly! Bob did a great job on this as far as measurements and dimensions. In other words, the heel peg is exactly where you'd want it. On my old VTX's I liked being able to have room on the floorboards to slide my feet forward and backwards. Bob's shifter allows this. Also, it's far back enough, and just above the floorboard enough, to keep my foot from sliding off the boards.
3. Takes very minimal effort to "step" it into the next gear.
4. The more I look at the pegs he used, the more I like the style!
5. I'm going riding in a little while and will see if anything's changed since yesterday.
But so far, I am sold on this!
Some things I'll be thinking about:
1. Since it's aluminum I'm wondering if the consistency (?) will hold up; meaning, will the one screw bolted to the OEM shifter start to widen the drilled hole and loosen the shifter?
2. Would a steel shifter be more durable?
3. Angling my floorboards where they point more downward at the rear may be benefitial as I had to slightly adjust my seating position so I wouldn't accidentally step on the shifter with my heel.
I would want it powder-coated black but...personal preference!
The "old man" and his wrenches!!!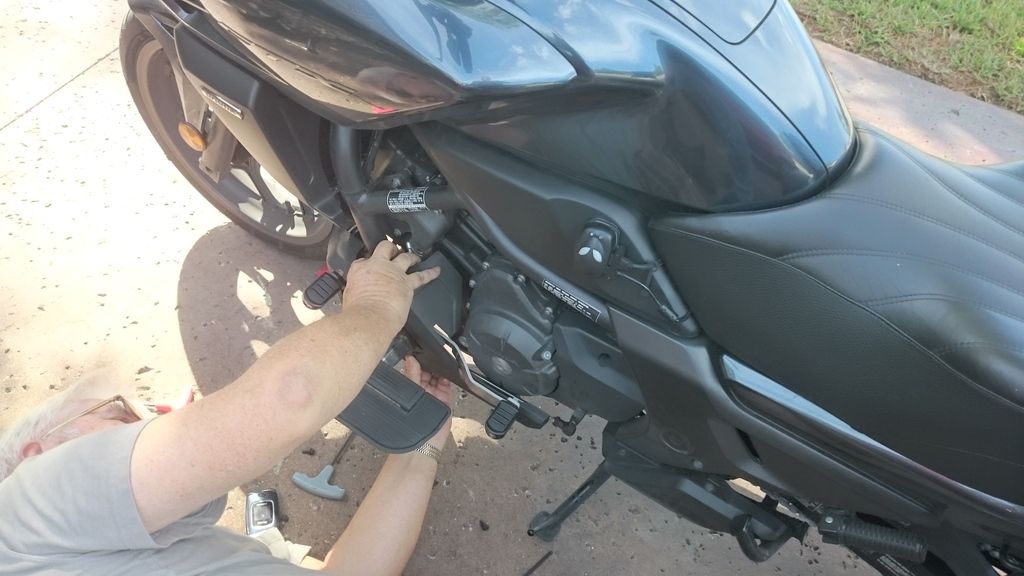 Bob taking my C for a test ride with the Heel-to-Toe shifter.