January 2017 Photo of the Month Winner!
---
January 2017 Photo of the Month Winner!

Congratulations to SeanOnAHonda for winning January 2017's Photo of the Month!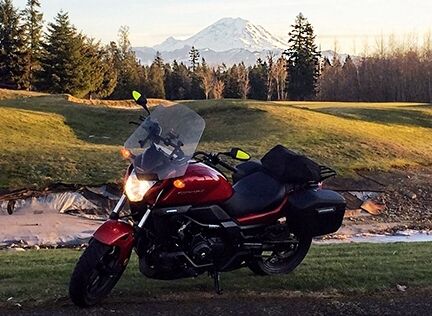 Congratulations Sean! Nicely done.
Senior Member
Join Date: May 2016
Location: Maple Valley, WA
Posts: 492
Cool, thanks!! That wasn't a planned shot at all; its at Druids Glen golf course in Covington WA and of course that's Mt Rainier in the background. Druids Glen just happens to be the terminus of a little loop I ride when I'm not necessarily going anywhere but want to get out on the bike for a bit. It's about 15 minutes away from home and I think this was in December on a clear cold day and I was there and saw he mountain -- it looks much better in person, folks! -- and thought I'd pull over and take a few photos for the archives. There's still lots of snow on it in the summer but less than what you see here, of course -- but when it's out, it's always a great backdrop for any photo. It gets some insanely cool cloud formations over it, too, every once in a while too....
---
- Sean
FORMER owner of a 2014 CTX700-N
Viking saddlebags with JFC brackets | Rapid Transit 'Platoon' tailbag | Brakelight modulator
WeBike centerstand | Madstad 22 windshield / Honda rear carrier | Kuryakin floorboards
Barkbuster handguards | GoCruise accelerator lock | Cinnamon Altoids
Scorpion T1200 and HJC SyMax III helmets | Sena Prism Tube camera