And it's goodbye from him
---
Hi all.
I've just sold my CTX700.
A couple of weeks ago I came across a Moto Guzzi Breva 750 that was 12 years old, but had only 2000km. I couldn't resist.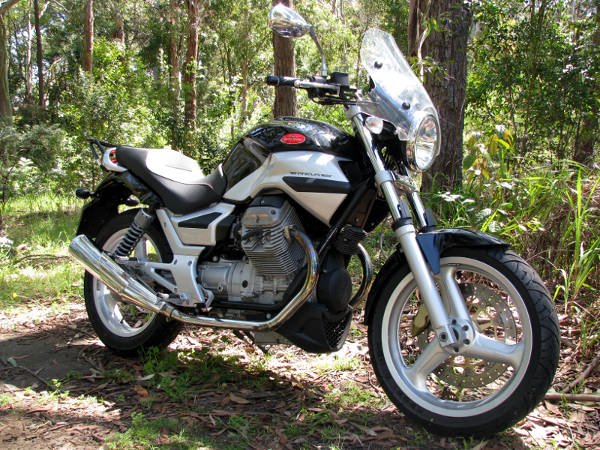 Cute isn't it?
Thanks to all here for the help and ideas over the last five years. It's been fun.
Gonzo
Senior Member
Join Date: Aug 2016
Location: Central Pennsylvania, USA
Posts: 680
Mr. Mod,
Wish you the best wherever you gozzi, you will be missed.

Shiny side up,
2K
Member
Join Date: May 2019
Location: Vero Beach, FL
Posts: 60
Senior Member
Join Date: Feb 2016
Location: Apple Valley, MN
Posts: 2,520
Beautiful bike, gonzo! Enjoy your "new" ride! Most importantly stay safe and upright!
---
2015 ctx700 faired dct
my other toys:
UNFORTUNATELY UNABLE TO BE IDENTIFIED
Senior Member
Join Date: Dec 2015
Location: Hudson, Florida (40 miles NW of Tampa)
Posts: 2,694
Never saw that model before -- it would have tempted me as well! If you choose to leave, (which I hope not) you will be missed!!
Best always,
Bob
Senior Member
Join Date: Oct 2017
Location: Rochester, NY
Posts: 519
Best of luck to you. Really have enjoyed your technical expertise.

Ride safe.
---
Professor

Honda 2015 CTX700N DCT ABS (Silver Bullet)
Mods: (Check the Gallery)
Puig Universal Touring windscreen
CustomTaylor33 reflective rim tape
Corbin standard dual saddle seat
Mutazu luggage rack assembly
Mutazu model FY hard saddle bags
Comie Top Case
Madstad kickstand shoe
T-Rex center stand
Thanks for all your technical input. What would some of the members have done with out the "Gonzo Mod" for the rear shock. You've really helped a lot of people, and fortunately we have all your old posts to help more, as they come along.

Enjoy that new ride!

DD
Member
Join Date: Sep 2019
Location: Jacksboro TN
Posts: 53
Congrats on the new bike, new to you that is.
---
Faired CTX700 with just a few addons.
Really nice bike! Guzzi is one of my favorites. I enjoyed to read your experiences and it helped my pretty much in making my own rear suspension modification. Have fun with your new bike, although you have to ride upside-down.
Senior Member
Join Date: Jul 2013
Posts: 472
Gonzo,

That sure is a nice looking bike you've got there.

I'm sorry to see you leaving the forum. I've really enjoyed discussing various mods with you, the help you've been to me and others. At this point in my life I likely will not be in the market to change my ride so don't expect me to meet up on another forum.

Best of luck to you and please ride safe, ride long and stay in touch with me.

Ralph